Good Morning everyone! I hope everyone is is having a great week so far! I am trying to catch up on my copic classes and Christmas Cards.
Here is a card I jut finished.
I am entering it into the
Chatter Scene Card Challenge
!
On this card I used the Stampin up Stocking punch.
And the sentiment is from CTMH Christmas Card Chatter!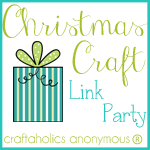 Thank you for looking!
Hugs
Chris
Looking For
My 700 Follower Giveaway!! Click Here!!
Looking For
My Message Boards!! Click Here!!
Don't forget to subscribe by email to keep up with challenge/giveaway posts winners!