Good Morning everyone? What do you all have planned for the weekend? I am gonna be out trying to get all of my errands done this morning and then DH and I have date night with out the boys tonight:)
I am so happy with how warm it is starting to get here in CNY. I am loving that all the snow is finally starting to melt. I was getting so tired of all the gloomy weather.
I also wanted to tell everyone that I bought the Crafter's Companion Rock A Block set and I am loving it. My stamped images have never come out clearer. I do need to go out and buy a smaller stamp pad though so that I dont accidentally ink the edges of the blocks. The rocker part.
I also wanted to invite you all to come chat with us over at my message board.
Chatter Scene
we have a fun paper crafting area where I do give aways once in a while:) The ladies there are very nice and very creative. The more peeps there sharing ideas the better:) We also have other areas of the board for those non crafters as well. Lots of mommy areas. And very little drama. Which is nice on a message board.
Okay now to my card. I whipped up this hoppy easter card using the Animal Kingdom Cricut cartridge and the DoodleCharms Cricut Cartridge.
I cut the bunny rabbit at 3 inches.
The basket was about 1 inch.
I colored in the eggs with copic markers and then added some fun glitter flock to them.
The hoppy easter sentiment was computer generated. I didnt realize I didnt have a good easter stamp. So I printed it and punched it out with a stampin up punch.
The ribbon was just a ribbon I picked up at the local craft store.
I used Peachy Keen animal faces to stamp the face on the rabbit.
I also used chalk to give him a bit of color.
And of course as always I added stickles:)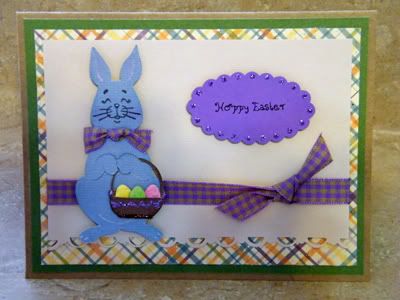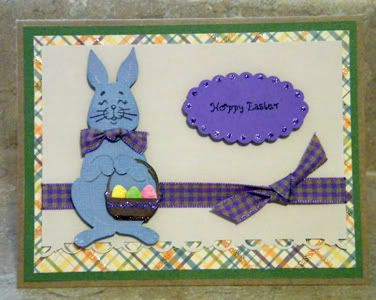 Took two pics because I am practicing different settings on my camera to get more clear pics.