Happy Monday everyone:) What is on the agenda for the week?
I have a ton to do. I want to get my spring cleaning done. More layouts and cards done. I also have some cuts to make.
I did this layout using the Animal Kingdom Cricut Cartridge cow. The cow is cut at 3 inches. I used peachy keen animal faces stamp for his face. I also used the Walk In My Garden cricut cart bee. The bee is cut at 1 inch.
I also used the cricut imagine to do the background paper with the clouds. I did this using the cricut imagine Hopscotch pattern cartridge. The sun is from Accent Essentials Cricut Cartridge. The sun is cut at 2 inches.
I again used the Martha Stewart Fringe Scissors on the grass.
Of course I added lots of stickles glitter.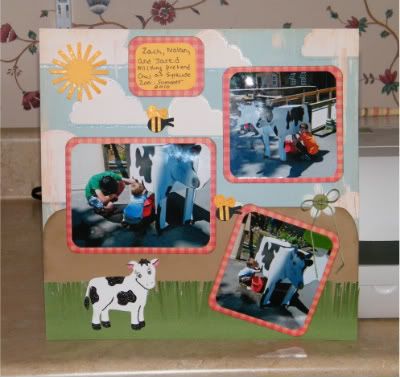 Come chat with us at
http://www.chatterscene.com/
We really have such a great community of woman. Hope to see some of you there:)